Wednesday, 14 May 2014
Council on Aging Celebrate Volunteers

Hundreds of seniors, caregivers, donors and sponsors celebrated another fantastic year of caring for the 365,000 elderly in Orange County at the annual Council on Aging Awards Luncheon. After the sponsors received special recognition and delivery of a bound edition of photos from the incredible Aging as Art project, the audience was treat to introductions to three former Rose Parade Queens who attended to show their support for the Council.The three Rose Queens, from 1947, 1954 and 1959 stood to the applause just as they did as young girls going down Colorado Boulevard over 60 years ago. Their beauty and spirit for living was evident and a perfect cue for the luncheons keynote speaker, Stephanie Edwards.

Ms. Edwards closed her message to a roaring applause by saying, "Choose joy after you've considered all the other options!". Supervisor Nelson's Policy Advisor Steve Spernak presented Ms. Edwards with a framed copy of the John Lennon lyrics to Imagine to honor the inspiration and optimism she gives over 1 billion people world-wide each new year's morning as a parade color-commentator for KTLA news.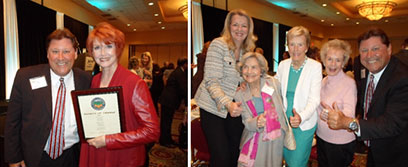 (Left) Policy Advisor Steve Spernak delivered a framed Certificate of Appreciation from Supervisor Nelson to Stephanie Edwards. (Right) Council Director Lisa Wright-Jenkins and three former Rose Parade Queens join Steve Spernak.
http://bos.ocgov.com/legacy4/newsletters/SN_Vol5Issue10.htm